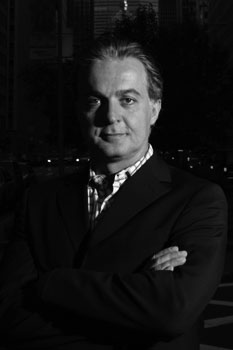 Evergreen Gem Corporation is a New York based company founded over 30 years ago dedicated to the commerce and cutting of the finest gems that could suited, designed and fixed to any need.

Evergreen Gem Corporation owner and founder Ronnie Zar has amassed a strong and extensive network of high net worth, celebrity and royal clientele through his charismatic expertise and vision of precious gems. Therefore, Evergreen is the world's leader of import and distribution of the finest and rarest Colombian Emeralds.

For many years, Evergreen Gem Corporation has been regarded as one of the best kept secrets in the Colombian Emerald industry. As a sight holder of Colombian Emeralds, Evergreen Gem Corporation has the first selection directly from the most exclusive mines of Colombia. With the help of our master cutters on staff, Evergreen then dictates the cutting, polishing and treatment of the stones excavated, allowing for leverage in the trade and offering absolute rare exclusivity.

For over 40 years Ronnie Zar has traveled to the most breath-taking places of the globe with the sole objectives of creating, finding and fulfilling the vision of the perfect gem!

Evergreen Gem Corporation has successfully been able to expand operations and network throughout the world. Ronnie Zar constantly travels between his offices in Bogota, Colombia and his headquarters in New York's famous Jewelry District which is regularly operated by his son, Lance Zar.

Lance Zar is a Business Management graduate at Baruch College and a GIA certified professional who grew up with a passion for the business and the value of precious Colombian Emeralds. Lance's unique vision of Emeralds is what separates himself from others in upcoming generation of young professionals. He continues to add and uphold a modern spark which keeps Evergreen ahead of the latest trends in precious stones and fine jewelry. Together, Ronnie and Lance Zar inspire to share their passion and deliver to the world only the finest one-of-a-kind Colombian Emeralds.

As of 2016, Evergreen decided to take their resources one step further and extend their supply chain from mine to collector. This understated exposure has granted Evergreen's exclusive clientele access to only the most precious stones in the world at absolute unbeatable value.

To hear more about Evergreen Gem Corp and/or make an appointment to see our fine and vast collection, contact us at our New York City headquarters to make an appointment.

Welcome to the world of Evergreen!

SALES TEAM

We are pleased to announce the newest member of Evergreen Gem Corp and our new Director of Sales - Mr. Mousa Zar. Mr. Zar has over 35 years of experience in all precious stones and has a special eye for emeralds. He travels extensively all over the globe to places including Thailand, Sri Lanka, Colombia, India, Europe, Asia & throughout America. We are happy to have him represent our company in promoting Colombian Emeralds and fine quality Precious Stones.

Mr. Zar can be reached at all times via Call and/or WhatsApp on his cell phone at (516) 359-2772. He can also be reached by email at [email protected] to help fulfill any request you have.