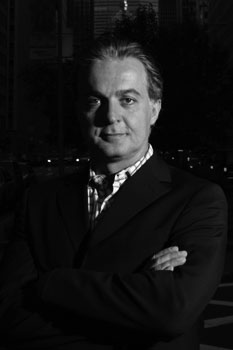 Welcome to Evergreen Gem Corporation, your premier destination for the world's most exquisite Colombian Emeralds. With a legacy spanning over 30 years, our New York-based company is dedicated to the commerce and cutting of the finest gemstones, tailored to meet your unique desires and needs.

Founder and Visionary - Ronnie Zar

At the heart of Evergreen Gem Corporation is our founder and visionary, Ronnie Zar. With a magnetic charisma and a discerning eye for precious gems, Ronnie has cultivated an extensive network of high-net-worth individuals, celebrities, and royalty. His expertise and vision have made Evergreen the world leader in the import and distribution of the rarest Colombian Emeralds.

For decades, Evergreen Gem Corporation has remained a well-guarded secret within the Colombian Emerald industry. As a sight holder of these exquisite gemstones, we have direct access to the most exclusive mines in Colombia. Leveraging the skills of our master cutters, we dictate the cutting, polishing, and treatment of these gems, ensuring absolute rare exclusivity.

For over 40 years, Ronnie Zar has traveled the globe in pursuit of the perfect gem, creating, discovering, and fulfilling the visions of beauty.

Leadership Team

Our operations extend across the world, with Ronnie Zar shuttling between our offices in Bogota, Colombia, and our headquarters in New York's renowned Jewelry District. Assisting in the management of our New York operations is Ronnie's son, Lance Zar, who holds the position of Vice President of Operations. A Business Management graduate from Baruch College and a GIA certified professional, Lance brings a modern perspective to the business, keeping Evergreen ahead of the latest trends in precious stones and fine jewelry.

Expanding Horizons

In 2016, Evergreen decided to extend its supply chain from mine to collector, offering our exclusive clientele access to the most precious gemstones in the world at unbeatable value.

European Sales Executive - Ramino Etessami

Meet our European Sales Executive, Ramino Etessami. Based in Milan, Italy, Ramino has been an integral part of Evergreen Gem Corp since 2008. With extensive experience and a passion for perfection, he plays a pivotal role in expanding Evergreen's presence in the European market. Ramino's keen eye for exquisite Colombian Emeralds and understanding of European clientele's unique preferences make him an invaluable asset.

In his role, Ramino is ideally situated to serve our discerning European clients. Whether you're a seasoned collector or new to the world of Colombian Emeralds, Ramino is here to assist you in finding the perfect gem that resonates with your style and taste.

You can reach Mr. Ramino Etessami at all times via Call and/or WhatsApp at +39 335 42 0890. He can also be reached by email at [email protected].

International Sales Executive - Mousa Zar

Introducing Mr. Mousa Zar, our International Sales Executive and the newest member of the Evergreen Gem Corp family. With over 35 years of experience in precious stones and a special affinity for emeralds, Mr. Zar's extensive travels across the globe have given him a unique perspective on gemstones. He is dedicated to promoting Colombian Emeralds and fine quality Precious Stones.

You can reach Mr. Mousa Zar at all times via Call and/or WhatsApp on his cell phone at +1 (516) 359-2772. He can also be reached by email at [email protected] to assist with any requests.

Feel free to connect with Mr. Mousa Zar to explore our fine collection or discuss any gem-related inquiries.

Thank you for visiting Evergreen Gem Corp, where perfection meets passion!